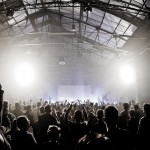 After this great gig at Nuits Sonores in our hometown, Scratch Bandits will be playing the new show from his recent LP "31 november" for the first time in Paris.
(You can watch the show at Nuits Sonores here thanks to Grandcrew)
The more dancefloor oriented rework of the tracks made for this live show another aspect of the band's work. Brusk X ice©ream video work is also largely present throughout the show.
We are pleased that Mr Gib, and Oogo & Chomsky from the beatmakers team "La Fine Équipe" (LP : "La Boulangerie 1 & 2″, "Fantastic Planet") will be rocking turntables and MPC's before and after the show.
Thursday 07 June – 08h30pm > 00h00pm
> Scratch Bandits Crew playing @ 09H30pm <
Petit Bain
7, Port de la Gare, 75013 Paris
17 € (13 € online)