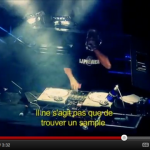 This is the teaser of "Scratch Music, birth of an art", featuring Dj Premier and Q-bert.
This french
documentary will bring you thru this musical revolution, showing the energy and passion that moves pioneers of the movement and the next generations.
Featuring Q-Bert, Dj Premier, Netik, C2C, Fly, Beat Torrent, Mart'One, C2C, Lejad, Goodka and Scratch Bandits Crew.